These days we share a lot of personal information with social networks. Maybe, just maybe, a bit too much personal information. Even though deleting yourself from all social media might be extreme, we can understand why people might consider it. If you're in that boat, here's how to delete an Instagram account.
It's not too complicated to delete your Instagram account, but there are some things you need to do. First, there are two options for making your Instagram account disappear: You can delete it temporarily or permanently. The main difference is that deleting it permanently will erase all your photos and videos. Suspending it will make your data invisible, but all your content will be there when you decide to come back.
Delete an Instagram Account
Be sure to follow each of the processes that I am going to describe below. I have broken down the entire process of how to delete an Instagram account. It's going to be a cinch!
The first thing you should do is Enter this page (Instagram Account Delete Page) .
Once there, a field will appear in which you can select the reason for saying goodbye to your Instagram account. Depending on the reason you indicate, Instagram will try to retain you as a user by offering you an option that allows you to leave for the time being but with an option to return at a later date.
Then, log into the account you want to delete and enter your username if you want to proceed.
In the next step, re-enter your password. You'll need to confirm to the platform that it's really you.
Finally, click on the red button that indicates the following: 'Permanently Delete my account'.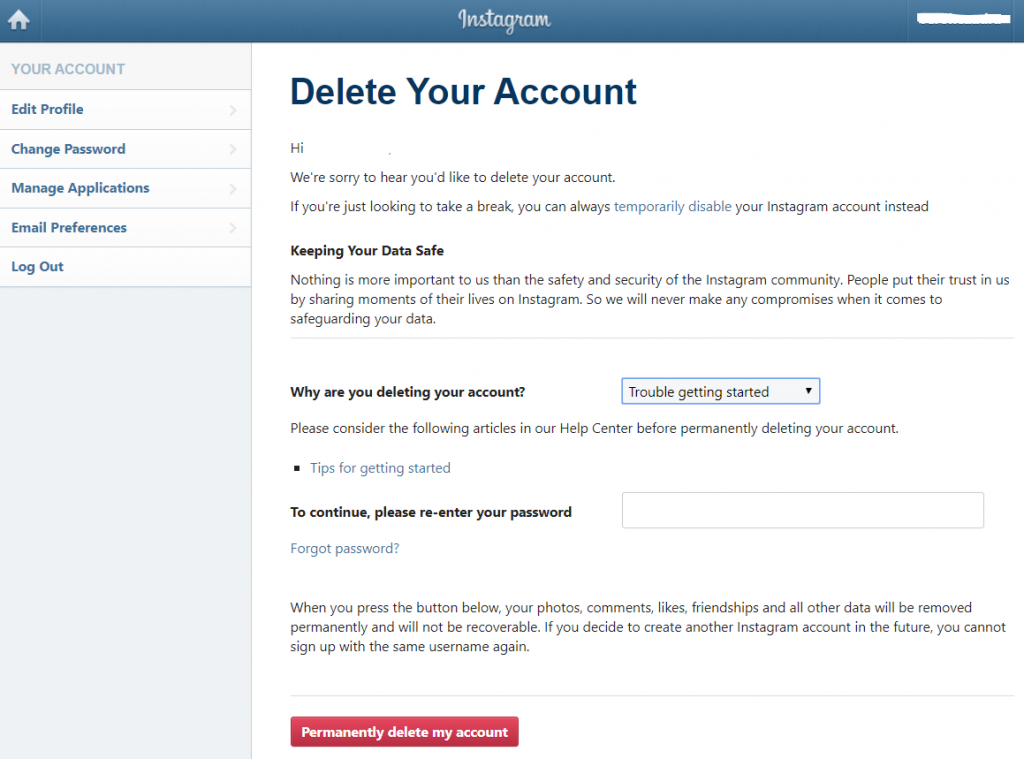 It's done! Your account is already deleted.
Your photos, comments, followers, and profile data will disappear forever. You won't be able to recover them. Why? Because Instagram permanently deletes this content so that it can't be used fraudulently.
Careful! Your username will also no longer be available for use. Keep this in mind before choosing to permanently close the account in question.
Conclusion
If you liked our article How to Delete an Instagram Account Permanently? , then definitely share it with your friends too, and if you have any questions for us, then tell us by writing it in the comment.
Bye Bye ?? Friends and Don't forget to Follow Me On: Twitter, Instagram